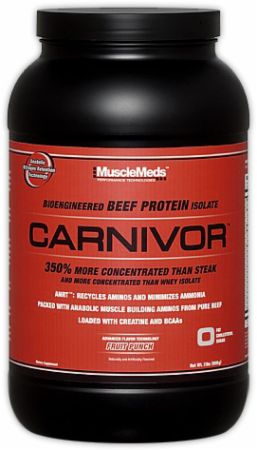 25,000,000+
Orders Shipped

Fastest
Shipping

Lowest
Prices

24/7/365
Live Support
Largest
Selection
Product Overview
Também disponível em Doses líquidas
A NOVA TECNOLOGIA SECRETA DE CARNE BOVINA USADA POR KAI GREENE PARA PROMOVER A MUSCULATURA E VENCER O ARNOLD CLASSIC 2009!*
Kai Greene tem trabalhado em estreita colaboração com os pesquisadores da MuscleMeds em algumas fórmulas experimentais antes da sua disponibilização ao público. Ao avaliar a ingestão de proteínas de Kai, os investigadores da MuscleMeds notaram que Kai tinha melhores ganhos musculares comendo carne em vez de usar suplementos de soro de leite ou caseína.* Em determinado momento, Kai estava comendo 3 a 4,5 kg de carne por dia e obtendo excelentes ganhos, mas o alto consumo de carne estava causando problemas de estômago e também elevando o consumo de gordura de Kai e seu colesterol além dos níveis desejados pela equipe MuscleMeds. Isto levou ao desenvolvimento de CARNIVOR, um isolado de proteína de carne, que Kai usa para promover o crescimento muscular e vencer o Arnold Classic Crown.*
O isolado de proteína da carne bovina é mais concentrado do que a carne e mais concentrado do que soro de leite:
Usando técnicas de extração, clarificação, hidrólise e isolamento, o Bioengineered Beef Protein Isolate do CARNIVOR oferece o poder de construção muscular da carne com níveis de aminoácidos mais elevados do que muitas outras fontes de proteína utilizadas em suplementos, incluindo soro de leite, soja, leite e ovo. O Carnivor Beef Protein Isolate é ainda mais concentrado em aminoácidos anabólicos de construção muscular do que um bife de filé mignon! E ele não tem gordura ou colesterol!*
A tecnologia de retenção de nitrogênio anabólico (ANRT) recicla aminos e minimiza amônia*:
Enquanto a proteína é essencial para o crescimento muscular, paradoxalmente, consumir mais proteína pode às vezes diminuir o desempenho e o crescimento do músculo caso resíduos nitrogenados, como amônia, não sejam reciclados de volta para os caminhos de construção dos tecidos anabólicos ou não neutralizados. A ANRT foi especialmente concebida para promover a reciclagem de aminoácidos de volta para o caminho de fortalecimento muscular para tratar o acúmulo de debilitante tóxicos, como amônia.* Os fatores de retenção de nitrogênio da ANRT contidos no Carnivor incluem: GKG (Glutamina-alfa-cetoglutarato), OKG (Ornitina alfa-cetoglutarato), AKG (alfa-cetoglutarato) e KIC (alfa-ketoisocaproate).*
O Carnivor foi formulado para promover a reciclagem de aminoácidos de volta para os caminhos de fortalecimento muscular e apoiar a retenção de nitrogênio e a promoção do crescimento muscular e performance.*
Mais Creatina do que na carne:
Um dos benefícios de comer carne é o seu teor naturalmente elevado de creatina. A carne é uma das melhores fontes naturais de creatina. Para promover os efeitos de aumento de volume da creatina, cada porção de Carnivor tem mais creatina do que carne, saturando seus músculos e promovendo força e crescimento.*
Adição de BCAA para maior suporte anabólico e anticatabólico*:
Para promover a construção muscular de Carnivor, aminoácidos de cadeia ramificada são adicionados ao purificado Beef Protein Isolate.* Os níveis de BCAA reforçados promovem um equilíbrio positivo de nitrogênio, a síntese proteica, melhoram o desempenho de treino e tratam a fadiga muscular.*
MATE A PAU com CARNIVOR!
Ratings & Reviews
By clicking the button above, you agree to entering the Bodybuilding.com Reviews section. Products in the Store are not intended to diagnose, treat, cure, or prevent any disease.